The @utomated Entertainment HD*VR™ 3-D Process

& The ChromaDepth™ 3-D Story

If you have a pair of Chromadepth™ Glasses Put Them On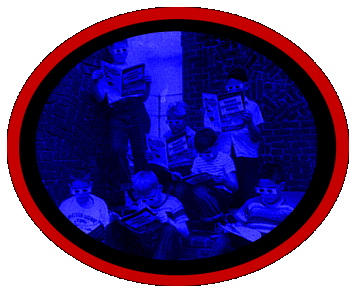 HD*VR 3-D™ MULTIMEDIA PROCESS
The HD*VR 3-D™ MULTIMEDIA series of lighting & viewing effects incorporates the use of polyester binary thin film optic (ChromaDepth™) lenses worn as eyewear (available in paper or plastic). The ChromaDepth™ lenses used combine refraction and diffraction that make thin film optics act like thick glass prisms.
HD*VR™ only requires one image to create three-dimensional effects. However if three-dimensional objects are treated correctly we can take those images into the next dimension. We do this by choice of fluorescent colored substrates, pigments, dyes, and paint which are excited by ultraviolet Blacklite™. The fluorescent materials then transmit their own visible light. 3-D can also be achieved by projecting saturated color images on a Blacklite Blue™ Screen.
The ChromaDepth™ lenses used simply separate the colors that are either being transmitted or projected in the following order.
Foreground objects are colored red, background objects are colored blue and objects in between are colored according to their position within the light spectrum, i.e. an orange object would appear behind red but in front of green. Green would appear in front of blue as middleground, but behind yellow. The lenses then decode the depth information to create a left view for the left eye and a right view for the right eye. All images will look normal without the lenses.
The HD*VR™ process actually only uses a single ChromaDepth™ lens the second lens is clear, this eliminates blurring from the transmitted fluorescent color.
More Information About Chromadepth™
ChromaDepth™ 3-D by Chromatek, Inc. and is the most versatile 3-D image method available. This new process allows spectacular 3-D images to be created and presented in print, film, video, television, computer graphic and laser show formats. Creating exciting 3-D images is most easily accomplished when the artist has an understanding of the functions of both the glasses and ChromaDepth™ 3-D depth encoding; along with the HD*VR™ 3-D Blacklite™ process. The patented ChromaDepth™ 3-D process enables the creation of "normal" looking color images that can be viewed as two dimensional images without HD*VR™ 3-D glasses, but which can jump into dramatic 3-D when viewed through the revolutionary ChromaDepth™ 3-D lenses used in the HD*VR™ 3-D glasses .

The ChromaDepth™ Story
ChromaDepth™ 3-D was invented by US researcher, Richard Steenblik, after he noticed that the bright colors on the screen of a TEMPEST video game seemed to lie in different depth planes. This triggered a quest to make this effect, known as chromostereoscopy, into a practical method for producing 3D images. In the course of eight years of after-hours experimentation, Mr. Steenblik created plastic prisms, glass double prisms, Fresnel prisms, and liquid optics using glycerin and Chinese cinnamon oil held in wedge-shaped glass cells. These liquid glasses worked extremely well, but were not suited for mass production. Mr. Steenblik and his business partner, Dr. Frederick Lauter, were about to give up when a new optical development came to their attention. Researchers at the Massachusetts Institute of Technology (MIT) had developed binary optics; a way of making very thin diffractive optics with the efficiency of refractive optics. It was instantly clear that binary optics provided the answer!
Optical devices use reflection, refraction, or diffraction to move light around. Optics which use refraction, such as lenses, are usually designed to reduce refraction. The binary optics found in ChromaDepth™ 3-D glasses, combine refraction and diffraction to make thin optics that act like thick glass prisms. After two years of development work with MIT, the ChromaDepth™ 3-D production solution was found.
ChromaDepth™ lenses were first used commercially in June, 1992, at a laser show presented by . Audio Visual Imagineering at the American Museum of Natural History Hayden Planetarium in New York City. ChromaDepth™ 3-D is currently used at many laser shows in the US and Canada, and is now being distributed by Automated Entertainment as part of the HD*VR™ Eyeware line for Live Multimedia shows, Theme park attractions, along with dozens of marketing promotions, and is now available on the Internet from both Automated Entertainment for the use with Live Entertainment, Multimedia Presentations & Special Effects Lighting and at Webstock at http:// www.earthchannel.com for the exclusive use on the Internet.



Basic Concepts Guide
The ChromaDepth™ 3-D and the HD*VR™ 3-D process is entirely new, but to understand how it works we need to first discuss the old 3-D methods. When you see an image in 3-D, both your left and right eyes see slightly different images from each other. The differences in these two images, called a stereo pair, convey depth information to your brain. If you remember the old 3-D comics, you will recall that the pictures consisted of two overlapping line drawings printed in red and blue. The red and blue glasses that came with the comic (if you were lucky) allowed only one image through to each eye, thus making a stereo pair. The red and blue glasses 3-D method is called anaglyph 3-D.
The ChromaDepth™ 3-D lenses are completely clear, unlike the anaglyph 3-D glasses. Although they look simply like clear plastic, each of the lenses in the ChromaDepth™ 3-D lenses actually incorporates a high precision system of micro-optics which creates a stereo pair from a single image. The lenses accomplish this by shifting the image colors in different directions for each eye.
The concept of ChromaDepth™ 3-D is straight-forward; encode depth into an image by means of color, then decode the color by means of optics, producing a true, stereoscopic, three dimensional image. Since color is used to represent depth information, the depth encoded image is a single image. Depending on the subject matter and the skill of the image creator, the effect of the ChromaDepth™ 3-D depth encoding may be to make the image look completely artificial, like a fantasy computer graphic, or to look completely natural.
Lovely examples of completely natural looking ChromaDepth™ 3-D images can be found in almost any book of underwater reef photography. The natural colors of this world often fall accidentally into exactly the right depth encoding to make the image beautifully 3-D when viewed with ChromaDepth™ 3-D lenses. There is a wide range of variation possible with ChromaDepth™ 3-D.
The glasses' optics come in four different varieties and the depth-to-color relationship (the ChromaDepth™ 3-D mapping) depends on the choice of background color. For the purpose of this document, we will assume that the ChromaDepth™ 3-D lenses are red proud (meaning that red is the foreground color when placed on a black background) and that a black or dark blue background will be used. This combination leads to the most natural looking images and has the most consistent set of design rules.

HD*VR 3-D™ Multimedia Design Kits Offered

HD*VR 3-D™ Multimedia
Design Guide
Includes (1) HD*VR 3-D™ Multimedia Design Guide and (1) Pair of Paper HD*VR 3-D™ Viewers
$10.00
(add $2.00 for ea additional pair of viewers).

HD*VR 3-D™ Multimedia Design Kit # 1:
Includes HD*VR 3-D™ Multimedia
Design Guide , (1) pair of HD*VR 3-D™ Viewers, (1) HD Fluorescent Tempera Paint Kit 6 Color - 0.75 oz. jars in non spill tray, 0.75oz black, 0.75oz, white, (1) 6" hand held blacklight
$45.00
(batteries & paint brush not included) (add $2.00 for ea additional pair of viewers).

HD*VR 3-D™ Multimedia Design Kit # 2: Includes HD*VR 3-D™ Multimedia
Design Guide, (1) pair of HD*VR 3-D™ Viewers, (1) HD Fluorescent Tempera Paint Kit 6 Color - 0.75 oz. jars in non spill tray, 0.75 oz. black, 0.75 oz. , white, (1) 18" blacklight
$65.00
(paint brush not included) (add $2.00 for ea additional pair of glasses).
"CALL US FOR INFORMATION ON OUR HD*VR 3-D™ WORKSHOP CLASSES"
We offer specials on group rates
Contact us for more information


"PRICE PER PAIR ON OUR PAPER HD*VR3-D™ VIEWERS FOR QUANTITIES LISTED "
Color(s)

(# of colors on front/
# of colors on back)
Paper color provides
white

1,000

2,500

5,000

10,000

25,000

50,000

100,000

250,000

500,000

1/1

1.90

0.97

0.71

0.60

0.51

0.4380

0.3260

0.2860

0.2300

2/1

2.28

1.19

0.79

0.63

0.53

0.4480

0.3310

0.2880

0.2330

3/1

2.75

1.40

0.94

0.67

0.55

0.4580

0.3360

0.2930

0.2370

4/1

2.92

1.52

1.00

0.70

0.57

0.4680

0.3410

0.2980

0.2400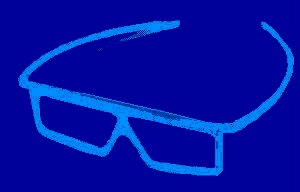 Our Plastic Frames are very durable they can be used over and over again.
Clean with mild soap & water solution, rinse with water dry with compressed or canned air.
Colors: Light Gray = For HD*VR 3-D Blackliteä Process & Multimedia Applications.
Turquoise = Print Materials Reflected Light Standard ChromaDepthä
Quantity

Each

Under 50

5.00

51-249

4.00

250-500

3.00

500-1000

2.50

1000-5000

2.00

5000-10,000

1.75

10,000-50,000

1.50

50,000-up

1.30

Price is subject to change without notice.
Other Types Of 3-D glasses That We Offer


Prices in US dollars
Custom changes in style or additionalcolor(s) other than listed must be re-quoted. Please call our office and speak with a sales representative.
The ChromaDepth™ 3-D process and HD*VR™ 3-D glasses are protected under the following U.S. patents: 4,597,634; 4,717,239; 5,002,364. by Chromatek Inc.,
HD*VR™ 3-D Viewers are only for use with HD*VR™ 3-D Blacklite™ to include other forms of lighting effects and HD*VR™ 3-D Multimedia Presentations along with ChromaDepth™ 3-D effects and products and are not intended for extended wear, performing physical activity, driving or operating machinery. Do not look into the sun with glasses.



Other ChromaDepth™ Sites to Visit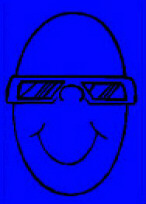 Automated Entertainment


The Earth Channel
Visit our Visionary MediaPartners in 3-D at Webstock
3-D Fun & Other Cool Stuff That Include Links to Non Profit Organizations that make a difference





Copyright. 1995/1996/1998/1999/2000 Automated Press All rights reserved.
Copyright 1995, Chromatek, Inc. All rights reserved.
Copyright 1995/1996, Earth Channel Communications, LLC. All rights reserved.
@utomated Entertainment HD Dichroic ™