@utomated Entertainment
HD Dichroic™ / HDZC&R Blacklite™ / HD*VR 3-D™
If you have a pair of Chromadepth™ Glasses Put Them On
3-D Eyewear

HD*VR™ ChromaDepth ™
HD*VR 3-D Multimedia Eyewear™ - The HD*VR 3-D Multimedia™ series of lighting and viewing effects incorporates the use of polyester binary thin film optic (Chromadepth ™) lenses worn as eyewear (paper or plastic). The binary lenses used combine refraction and diffraction that make thin optics act like thick glass prisms. The HD*VR™only requires one image to create three dimensional effects however if three dimensional objects are treated correctly we can take those images into the next dimension. We do this by choice of substrate and projected color along with the addition of ultraviolet Blacklite™ which intensifies the substrate materials and costuming used in the scene.
This page can be viewed with our HD*VR™ ChromaDepth ™ Viewers for a 3-D experience.
HD*VR3-D™Process Guide & Chromadepth™ Story

3-D FireworksTM Glasses - Lazer Shades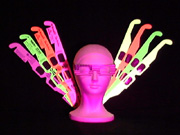 3-D Fireworks™ Glasses - Lazer Shades - Slap our amazing 3-D Fireworks™ Glasses on your customer's face. Watch out! you'll quickly learn what we mean when we say "Enormous, eye popping excitement everywhere" as the multi-starbursts of three dimensional rainbows race at you. 3-D Fireworks™ Glasses have specially treated lenses that enhance all fireworks shows, laser displays and holiday light shows. More than 20 million people have viewed fireworks with this eye-opening specialty. Countless dollars have been raised by local charities selling our amazing glasses at city sponsored events and festivals. Variety of frame colors available including hot neon colors, patriotic flag design and four color wave with bursting fireworks. also available with coupons at no extra charge.

3-D Anaglypic Glasses/Decoders and 3-D polarized glasses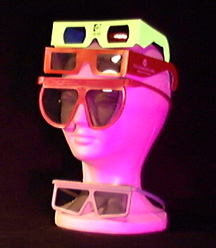 3-D Anaglypic Glasses/Decoders - Our eye-popping 3-D glasses will add depth to your next advertising or print promotion. Our specially designed 3-D glasses are available in lens colors that will meet your specifications for your project in print, video, television and movies. Want your next spring campaign, poster or direct mail project to truly stand out? Let our 3-D conversion specialists transform your next printed project so that it explodes into the third dimension. We can convert your art to jump off the page, turn-back flips or play hide-and-seek. Give us a call for a free consultation and estimate. Inexpensive hand-held viewers ideal for direct mail and magazine insertion are available as well as 3-D polarized glasses. Call for a quote.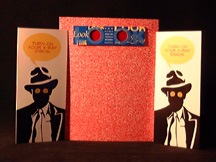 3-D Ad-Shades™ Paper Sunglasses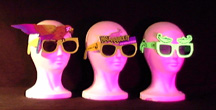 3-D Ad-Shades™ Paper Sunglasses - Ad-Shades™ customized paper sunglasses place your logo, message or coupon directly in the public's eye. Ad-Shade™ are manufactured in the USA using non-toxic durable paper with vinyl lenses that block up to 96% of the sun's ultraviolet rays. Ad-Shades™ are a powerful market tool for grand openings, product introductions, radio and TV stations, direct mail and sporting events. Coupon redemption will soar using Ad-Shades™ with our detachable coupons. Ad-Shades™ will deliver increased product awareness, immediate impact and lasting advertising impressions. Also available are our special eclipse viewing glasses.
HD Custom Shape Paper Sunglasses™ - Make your sales soar for parties and summer promotions with our signature Custom Shape Paper Sunglasses. With two custom imprintable temples they're sure to make an advertising impact. A variety of frame styles, unlimited lens colors, full color printing and intricate die cutting capabilities make it easy to create your own paper sunglasses. Imagine your company logo or slogan die cut above the glasses frame printed in your corporate colors. You design the glasses and we'll build them. Give us a call or fax us your design and we'll be glad to give you an estimate.

HOLOSPEX™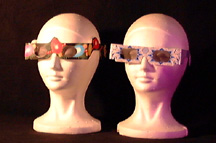 Activate HOLOSPEX™ by viewing any direct, distant point of light. (Especially effective at night with city lights, street lights and holiday lights.) Magically symbols or your company logo will pop up in the center of the lens.
Standard symbols include Noel, USA, $, Snowflake, Hearts. Call for pricing.

| | | |
| --- | --- | --- |
| Types of Glasses We Offer | Lenses (Filter) | Application |
| HD*VRTM 3-D ViewersPaper or Plastic | Laser embossed thinfilm separate RGB(1) Chromadepth lens,(1) clear | Live multimedia, lighting,film, video, computerprograms, four color print, TV |
| HD FireworksTM Glasses | Clear film diffraction-breaks up light | 3-D fireworks, laser,educational |
| HD 3-D Polarized Viewers | Light gray oppposing 450 | Multimedia, slide shows, movies, simulators |
| HD 3-D Anaglyphic Glasses | Red/Blue or Red/Green | Print, movies, games,computer programs |
| HD Decoder Glasses | Double red or any doublecolor | Hidden images or words |
| HD Ad-ShadesTM Glasses | Paper (coupon) Sunglasses | Advertisement |
| HD 3-D Pulfrich Viewers | One dark one clear lens | TV and video |
| HD HolospexTM Glasses | Embossed logo | Advertisement/images |

Please Call or E-Mail Us For Pricing and Artwork Requirements (800) 880-6567 Thank You