@utomated Entertainment
HD Dichroic™ / ZC&R Blacklite™ / HD*VR 3-D™

HD DICHROIC™ Color Filters

1" - 24" diameter x 2-5mm Thermal Resistant Substrates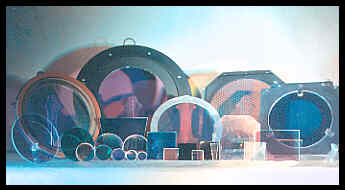 @utomated Entertainment, manufacturer of the HD DICHROIC™, has been a principal supplier of dichoric filters and optical thin film solutions since 1986.

We not only focus on our products but concentrate our efforts toward the education and application of visual effects, custom optical devices and dichroic components exclusively for the entertainment and architectural lighting industry as well as forensic evidence field.
Since 1986, we have produced over 100 colors, the majority in equivalent to polyester colors produced by GAM, Rosco, Lee and CMC.
Recent achievements in the vacuum thin film industry have allowed us to employ technology through science offering advanced optical coating techniques to the entertainment lighting community. This allows HD DICHROIC™ to provide you, the customer, with the following:



Extremely durable substrates 1.75mm - 4.0mm


Color match to source at higher transmission
(any color GAM, Rosco, Lee or CMC)


Consistency and uniformity from batch to batch


Custom CAD cutting 1" - 24" diameter (traps & odd shapes no problem!)


30 day exchange on any rejected colors or shapes off spec
(contract jobs only)


Custom framing


Guaranteed not to fade, peel or blister for 3 years on standard color fixture
applications
Standard Colors and Thin Film Coatings
HD 120 BRIGHT PINK
HD 140 DARK MAGENTA
HD 180 CHERRY
HD 220 PINK MAGENTA
HD 245 LIGHT RED
HD 480 MEDIUM YELLOW
HD 655 RICH GREEN
HD 690 BLUE GRASS
HD 835 AZTEC BLUE
HD 930 REAL CONGO BLUE
HD 950 PURPLE
HD 995 ORCHID

HD 0º HOT MIRROR
HD 45º COLD MIRROR
HD UV BLOCKER
HD C.T.O. C.T.B./C.Y.M.
HD UV PASS BLACKLITE FILTER
HD BLACKEYE CONVERT IRT
HD FIRST SURFACE MIRROR
HD BEAMSPLITTERS
HD ANTI-REFLECTION
HD COLOR COMPLEX FILTERS
HD CMYK AND RGB