@utomated Entertainment HD Dichroic™ ZC&R Blacklite™
Special FX Products
HDFOT™ Dimensional Fiber Optic Tree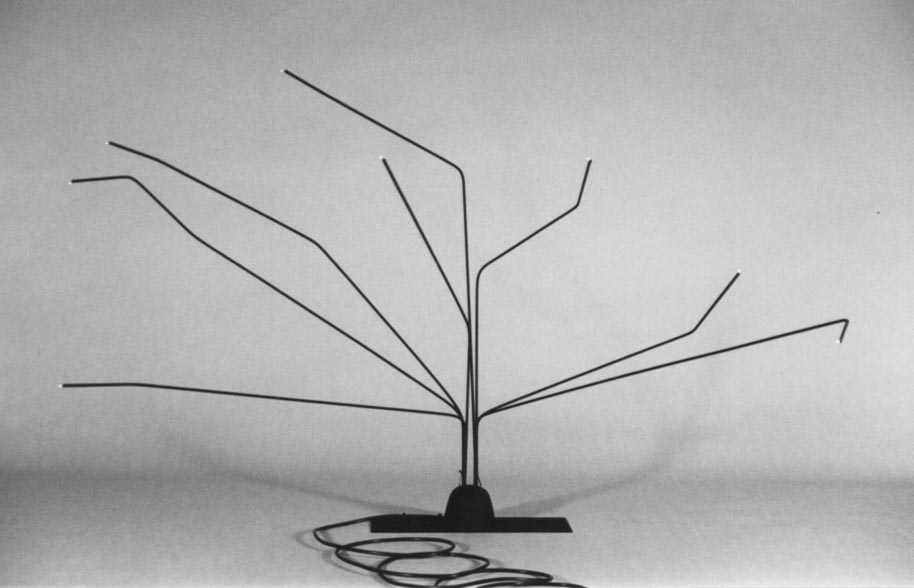 End lit fiber optic trees or branches (bundles) that are manufactured with ridged, bendable tubing that allows the scenic artist to pose each end lit fiber into position. Each end of a branch can also be tweaked off axis to simulate different size stars that increase depth. Each tree has a footing of its own that can be mounted to floors, ceilings and walls. The use of the HDFOT™ can save time and take a lot of guess work out of your star cluster design allowing the artist to change the general pattern at will.


HD Auto-Iris™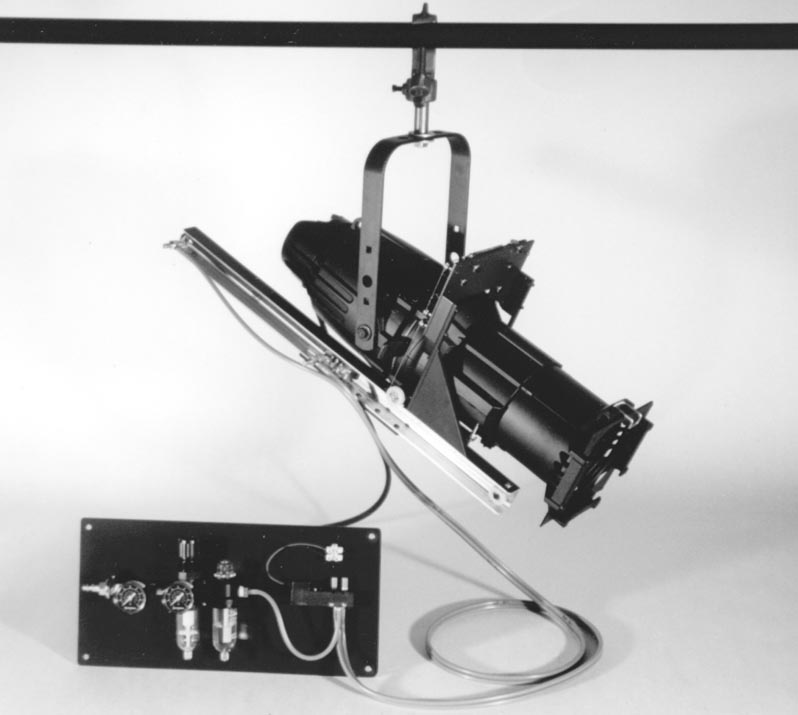 Automatic Iris for ETC Source Four Ellipsoidal Spotlights
Automatically controlled ellipsoidal spotlight iris for theater and themed environments.
Custom built Auto-Iris™ makes it possible to control the iris aperture via show control digital signal.
Features: Iris open and close according to show control program, Rate of opening and closing are independently set. Can open fast and close slowly or vice versa, Can snap open or close or take up to 35 seconds if desired.
Pneumatically operated for heavy duty cycle with long life. Uses "show air" or motor driven via DMX or digital show control signal, Constant digital show control signal used either "normally open" iris or "normally closed".
HDP-75™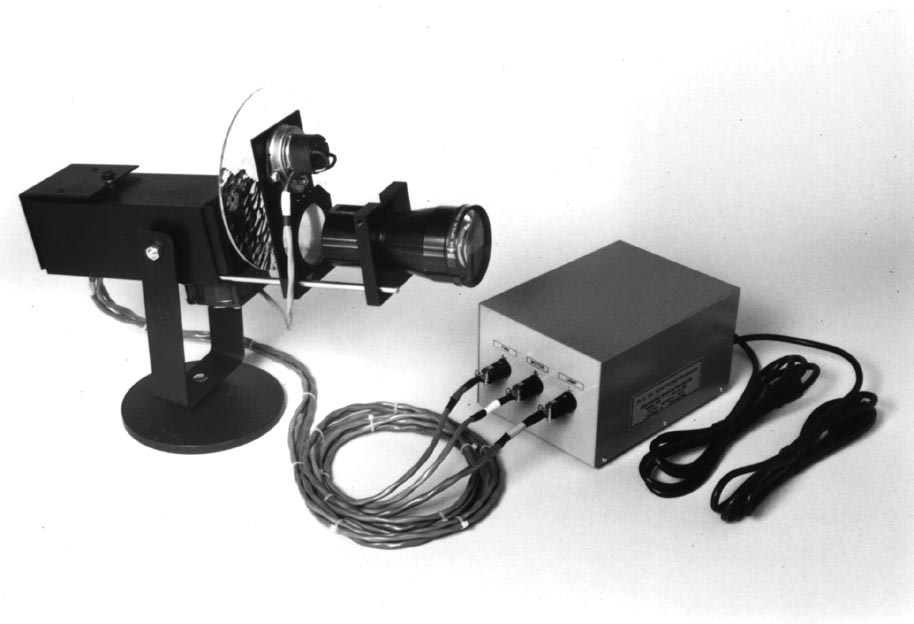 Mini-Theatrical & Special EffectsProjector System
DIMENSIONS: Project body - 3" x 3", Overall length (varies with lens) - 14.70" to 17" Height with yoke mount at bottom position & 6", disks - 11.70" Power supply - 9" x 4.5" x 6"

LAMP: EYF MR 16, 75W, 12V, 2000 hour rated life

MOUNTING OPTIONS: Yoke has 5/16" dia. hole for bolting down, mounting to stand or for attaching a theatrical "C" clamp (by others). Yoke will freely swing from under projector around back to above projector. it can be locked down in any position along its travel for positioning and aiming adjustment.

POWER: 117VAC 50/60Hz, 100W

FEATURES: Low film gate temperature, High quality extruded aluminum body, Easy lamp change without disturbing setup, Multiple disk drives can be used, Optional focusable static 35mm - 2"x2" artwork or mask holders, Remote power supply, Compact size, Dimmable, Fan cooled. UL Listed
HD CL-MPS™
Continuous Loops Motion Picture System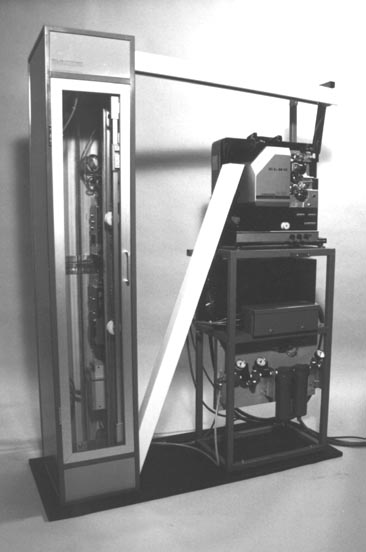 DIMENSIONS: 50"L x 20"W x 66"H
Weight: 250 pounds
Shipping Weight: 325 pounds

POWER: Projector: 120VAC 50/60Hz, 1500W
Lamp: 750W Xenon, 600 hours
Loop Cabinet: 120VAC 50/60Hz, 240W

SPECIAL REQUIREMENTS: Facility air @80 PSI min. 2 CFM for douser and dust/static control for continuous filmcleaning.

SHOW CONTROL: Automatic (or manual) for five show control functions as follows:
1. Lamp on 24VDC momentary
2. Lamp off 24VDC momentary
3. Show start 24VDC momentary
4. Show stop 24VDC momentary
5. Show douser 24VDC toggle

HD FX Projector™
With 34" Disk Drive 10" x 10" Artwork Size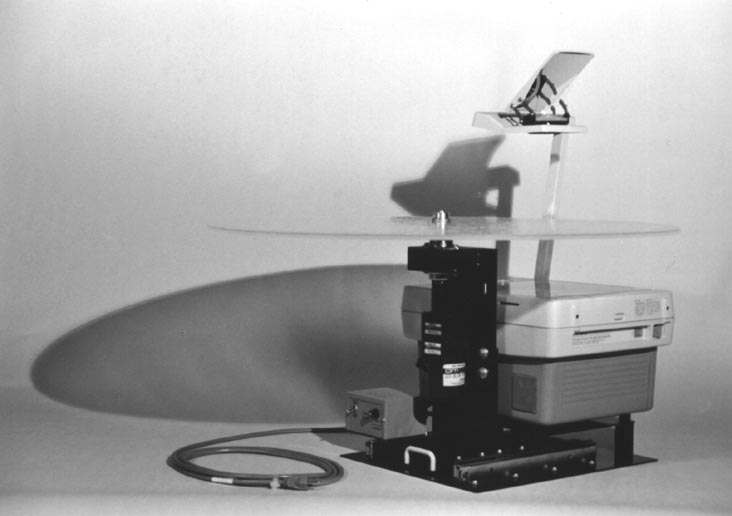 FIXTURE: Heavy duty construction for continuous long life use.

DIMENSIONS: 44"L x 36"W x 36"H

LAMP: 575 watt metal halide lamp. Over 2000 hours of life under themed environment type use.

POWER: 120VAC 50/60Hz. 760 watts for projector and 34" disk drive. More for additional accessories, as required.

FEATURES: Center driven disk drive included for a 34" disk (disk type specified separately).
Light trap and dust cover, Large horizontal artwork surface area for easy prototyping and heat dissipation.
One year limited warranty parts and labor, Easy lamp change and maintenance without disturbing artwork set up or focus.

OPTIONS: Double disk drive, triple disk drive, diffusion wheels, color wheels, mirror balls, mirror drums, panning mirror, gel, diffuser or diffusion grating, holders, mechanical dowser, mechanical dimmer, etc., Disk drives can be 14", 34", 40" or 48" in diameter, Rim driven, center driven, constantly on, indexed, synchronized, variable speed or reversible.

SHOW CONTROL: 24VDC signals may be used to trigger disk drives or other artwork accessories from show control.
HD LINNENBAC HL-250 Drum Projector™
For Soft Edged Projections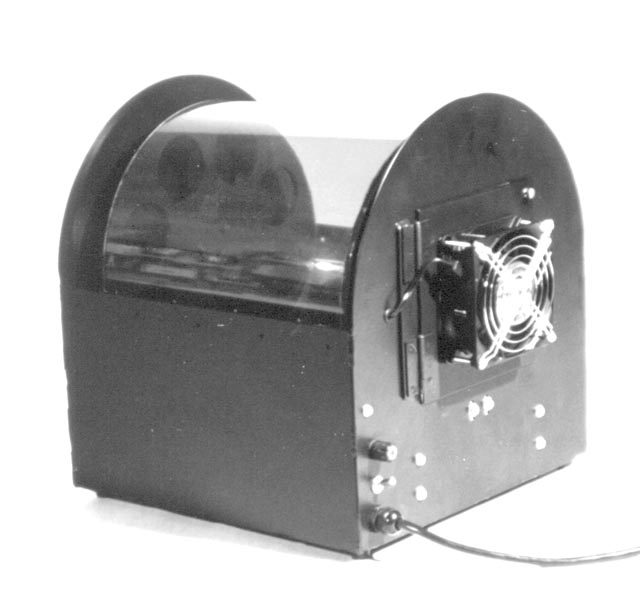 A non-lensed imaging projector. A cost effective way to create moving images for all themed environments. Images are created directly from the artwork as it rotates around the lamp. No lenses.
DIMENSIONS: 19-5/8"L x 14"W x 15-1/2"H
POWER: 117VAC 50/60Hz, 450W (with 250W lamp)
LAMP: ESS 250Q/CL/DC, 250W Halogen, 120VAC 2000 hour rated life (optional 150W lamp available)

ARTWORK OPTIONS: Artwork size 11-1/2" x 38". Artwork can be produced by hand or photographically.
Artwork can be painted or assembled onto an acetate or mylar sheet. Artwork is often first painted then reproduced photographically using Ilphachrome or Kodilith.

FEATURES: Easy lamp change without disturbing setup, Ready to accept image masking, Fan cooled, Interchangeable RPM motor or optional speed motor control, Sturdy steel frame, Heavy duty construction for continuous operation.
Please Contact Us For Pricing On Our Special FX Products